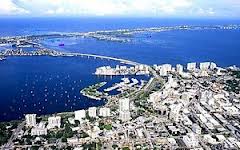 Presenting the best in educational programming for Sarasota – Florida's sparkling southwest coast.
Coral Springs, FL (PRWEB) July 27, 2012
Today in America with Terry Bradshaw, an absorbing program is excited to present July air dates for the sparkling city of Sarasota, Florida. The charming seaside area is home to many of the United States' most beautiful attractions and home to the top ranked beaches in the country. Visit, learn and see the ocean's marine mammals at one of the top laboratories for the species, marvel at the beauty in a stunning botanical garden and relax and unwind at a world-class resort located on the southwestern coast in the state of Florida. Residents and visitors in the area can watch the Telly award-winning program on SNN Sarasota News Network Local News 6 Comcast Cable.
Show host Terry Bradshaw is a former NFL quarterback for the Pittsburgh Steelers professional football team. His pro ball career ran for 14 years and netted him two Most Valuable Player titles and an induction into the Hall of Fame. He retired from the grid iron in 1984 and immediately went to work as a game analyst for various national television networks. Bradshaw is a New York Times best-selling author, enthusiastic motivational speaker and spokesperson for Nutrisystem. His reputation as one of the most recognizable sports celebrities in the country keeps him in the public eye.
Today in America TV is a proud leader in quality, educational programming. The riveting show reviews topics that reflect a nation of educated professionals. It successfully blends news and information from business to lifestyle in its mission to inform and entertain the audience. Producers scan the country for the best in America to share with the viewer. It airs regionally and nationally on business oriented cable networks. Learn more about host Terry Bradshaw, view the broadcast schedule and watch sample videos at todayinamericatv.com.