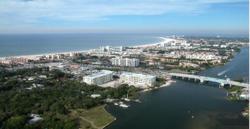 These Floridian cities are historically important to the state and we are proud to air our program in them.
Coral Springs, FL (PRWEB) October 19, 2012
The educational program Today in America TV announces air dates for the Floridian cities of Sarasota, Venice and Port Charlotte. It is not surprising to learn that Sarasota, one of the most beautiful areas in the Sunshine State was developed and nurtured by women. Berta Palmer was the region's largest landholder and developer after the turn of the 20th century. She singlehandedly developed and promoted ingenious cattle raising practices which later became a popular and successful. She also was the person responsible for promoting the area as a première tourist destination for the affluent. In addition, the McClellan sisters, Katherine and Daisietta, became very successful real estate developers during this same time period. The area has a luxurious 35 miles of white sand beaches on the Gulf, an affordable cost of living and an abundance of outdoor and water sports. Residents and locals in the Sarasota-Venice-Port Charlotte area can watch the award-winning show on SNN Sarasota News Network Local News 6.
Terry Bradshaw, a former professional football player, is the host of Today in America. He played for the Pittsburgh Steelers as their quarterback for more than 20 years before retiring. His skill and leadership earned Bradshaw an induction into the National Football League Hall of Fame. He is as popular today as he was during his football career and still works in the sport but as a commentator, analyst and co-host of a pregame show. Bradshaw is regularly called upon to speak at motivational events and is a spokesperson for Nutrisystem and other name-brand products.
The Today in America Terry Bradshaw show covers topics which are engaging and useful. Viewers have an opportunity to learn something new about business management, home and lifestyle option, education and many other informative subjects. Feature interviews with medical professionals, successful businesspeople and innovative entrepreneurs punctuate the topic. Learn more at todayinamericatv.com.