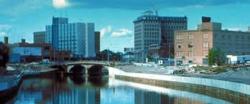 Quality, educational and entertaining programming for one of America's toughest cities.
Coral Springs, FL (PRWEB) May 23, 2012
The city of Flint, Michigan is one of toughness. This is the city where the United Auto Workers Union was born from a sit down strike in 1937. It was the city where tanks and other war materials were made during World War II due to it heavy manufacturing facilities. However, Flint is also the city where world-famous singer Stevie Wonder was born and where establishment pounding filmmaker Michael Moore was born. The city is well-known for its Cultural Center where the Flint Symphony, art center, planetarium and other culturally important groups are located. These places, within a city that fights for survival, are escapes from the sometimes harshness of life. Today in America TV airs in the Flint, Michigan, and the surrounding areas, via the Comcast cable system.
Terry Bradshaw, a former pro ball player, is the host and narrator of the educational television program. He was the leading quarterback for the Pittsburgh Steelers who helped steer the team to four Super Bowl victories and eight AFC titles, earning the title of "Most Valuable Player" twice. The professional football Hall of Fame inductee retired from the grid iron in 1984 and has worked as a sports commentator for more than 20 years. Bradshaw is also an analyst on Fox NFL Sunday, spokesperson for weight loss program Nutrisystem and a busy motivational speaker for corporations and charitable organizations.
Today in America with Terry Bradshaw covers topics that are relevant and interesting to viewers from any background. The informative program films throughout the country and is edited in South Florida. It airs on regional and national business oriented cable networks in a time frame that is convenient to watch. For more information about the cable program or its host, please visit todayinamericatv.com. The show is also active on many social media sites such as Facebook, Pinterest and Twitter.