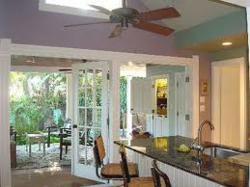 Always bringing the audience fresh information to make a difference.
Coral Springs, FL (PRWEB) March 11, 2012
Today in America TV introduces a new series to its audience called Bringing the Inside Out. As spring nears, people want to go outside and once again enjoy the warmer weather. It only makes sense to take stock of outdoor spaces and determine what needs to be done to bring more comfort to this well used area. Comfort is the most important factor in creating an outdoor space where everyone will love to relax and enjoy. The options for outdoor furniture and accessories are colorful and endless. Now is the time to evaluate what needs to be done outside before you bring the inside out.
Today in America with Terry Bradshaw scans the nation and the globe for interesting stories about business, industry and lifestyles and reviews them to provide entertaining TV. Former NFL great Terry Bradshaw, who introduces the show, is recognized as one of the greatest quarterbacks in football history. He was "All-American" at Louisiana Tech University before joining the Pittsburgh Steelers. Terry holds the distinction of being the first quarterback ever to win four Super Bowl Championships. Twice named as Super Bowl "MVP", Bradshaw holds Super Bowl all-time passing records to this day. In 1984, with a solid football career behind him, Terry became a television commentator. He was a Color Analyst for CBS Sports on their NFL broadcasts and later one of their in-studio co-hosts, eventually joining the team on The NFL Today. After ten years with CBS, Bradshaw moved to Fox Sports as one of the co-hosts and analysts on Fox NFL Sunday.
The Today in America TV show is available nationally and regionally on many popular television networks such as BNN and Fox Business. It airs in convenient time slots for the busy executive on the go. For more information or to find local air dates, please visit http://www.todayinamericatv.com.