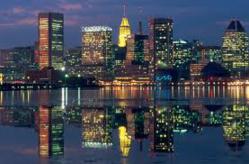 Proud to be on the air in the magnificent Baltimore, MD area.
Coral Springs, FL (PRWEB) October 15, 2012
The exceptional Today in America Terry Bradshaw show will be airing in "Crab City" – Baltimore, Maryland, in the month of October. It was given this nickname because the city is close to the Chesapeake Bay where the world-famous blue crabs live. The crustaceans are a delectable treat for seafood lovers everywhere. If it is raining and you need an umbrella, you can Baltimore. It was the home of the first umbrella factory in the United States. The city is fortunate to have the Inner Harbor as one of its most beautiful locations for business and pleasure. Residents and visitors are a short drive from the historically important cities of Annapolis and Washington, D.C. Today in America with Terry Bradshaw airs on TCN- The Comcast Network in Baltimore, MD Washington, D.C. and the Richmond, VA areas.
Show host Terry Bradshaw is a former Pittsburgh Steelers quarterback. He was one of the influential players who helped lead the team to four Super Bowl victories. His skill and talent in the sport of football earned Bradshaw an induction into the National Football League Hall of Fame. He retired after playing for the storied team for 14 years. Bradshaw has since worked in broadcasting for almost 30 years as a commentator and analyst. Now, he is a favorite co-host of an Emmy-winning pregame show, an enthusiastic motivational speaker and often requested late night talk show guest.
Today in America with Terry Bradshaw is a unique program covering the topics which reflect the nation. It covers various industries such as educational, technical, environmental, business and others. The show films in the United States and Canada and airs on cable television networks in regional and national media markets. More information is available at todayinamericatv.com, including the broadcast schedule. Social media fans are encouraged to engage the show on Facebook, Twitter, YouTube and Google+.