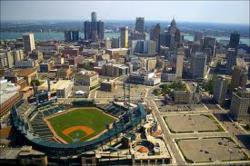 The best program of its genre for "Motor City, USA" Detroit. Michigan.
Coral Springs, FL (PRWEB) September 18, 2012
Today in America Terry Bradshaw, an outstanding informative program, is pleased to inform September air dates are published for Detroit, Michigan, also well-known as "Motown", "Rock City", "Hockeytown" and "The D". The American city is famous for many things which include Vernors's – the nation's first soda. It is also the first city to pave a concrete road and install the first 4-way three color traffic light. Detroit sports are just as tough as their fans, even if most are single. Sperling's Best Places ranks it the number two American City with the Most Singles. Residents single or not, will be able to watch the engaging television program on WADL-TV.
Show host Terry Bradshaw, a former Pittsburgh Steelers quarterback, broke many former all-time passing records during his 14 years in pro ball. As of Sunday, September 16, it is still unbroken but Steelers quarterback Ben Roethlisberger joined him in the 27K passing yards club. Bradshaw retired from the sport in the mid 1980's and has worked in broadcasting as a commentator and analyst for more than 20 years. He is currently one of the co-hosts of Fox NFL Sunday, an inspirational speaker for corporate and charitable events, and a best-selling author.
The Today in America with Terry Bradshaw show takes pride in being a leader of quality, educational programming. It takes topics which are on the minds of viewers such as family wellness, the environment, breaking trends in the tech industry, plus more, and brings them to the audience. Producers successfully blend business news and interviews with leaders in different fields to offer a unique program in its genre. The provocative show films on location in the United States and Canada, and is distributed on many business oriented cable television networks. More information is available at todayinamericatv.com.