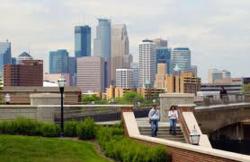 We are excited to air in the Twin Cities of Minnesota.
Coral Springs, FL (PRWEB) October 14, 2012
The exceptional Today in America TV is pleased to present October air dates for the "City of Lakes" – Minneapolis, Minnesota. Its name comes from a combination of Sioux Indian and Greek words meaning "city of waters" as the areas has 22 lakes within the city limits. Some of the most used items were created there including PostIt Notes, Tonka Trucks, Wheaties cereal and Rollerblades. It is the only city in the United States which has a skyway connecting 52 blocks of the downtown area making it pleasurable to eat, live, work and play without going outside. The compelling program is also airing in its twin city of St. Paul – home to 33 bridges. Residents and visitors to the Twin Cities can watch the award-winning program on KSTC-TV.
Terry Bradshaw, a former Pittsburgh Steelers quarterback, is the host and narrator of the show. He was one of the influential players who helped lead the team to four Super Bowl victories and other national championship game wins. His natural leadership and skill in professional football earned Bradshaw an induction into the NFL Hall of Fame. Since his retirement in 1984, he has worked as a professional football commentator and analyst for many national television networks. Today, he is a favorite co-host on a pregame show, a best-selling author and often requested motivational speaker.
The Today in America Terry Bradshaw show is an innovative program featuring interviews with leaders in their fields. It covers topics such as business management solutions, the environment, home and lifestyle ideas, plus many more. The enlightening program films in the United States and is broadcast on regional and national cable television networks with a focus on business news and information. More information is available at todayinamericatv.com or on social media sites Facebook, Twitter and YouTube.