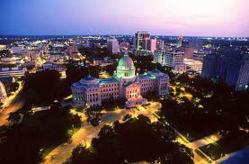 A leader in quality programming airs in historically important Jackson, MS.
Coral Springs, FL (PRWEB) August 28, 2012
The outstanding Today in America TV show welcomes Jackson, Mississippi to the many media markets broadcasting the informative program and offers airs dates for the city, also called "Chimneyville". Jackson is the capital of the state and has made some very respectable city lists. Portfolio Magazine ranked it the 9th Top City for Income Growth, The Huffington Post called it one of the American Cities Beating the Recession, The Brookings Institute's Metro Monitor stated it was one of the 20 Strongest Performing Metros in America, and Business Week Magazine ranked it 11th Strongest US Metro in America. Jackson, a mid-sized Southern town is big in prestige and it shows. The producers and host of outstanding show hope the residents and visitors of Jackson, Mississippi stay safe as the tropical storm which just left South Florida, where the program's studio is located, seems headed in the city's direction.
Host Terry Bradshaw is a former professional football player and one of the most popular sports celebrities in the country. He was the prominent quarterback for the Pittsburgh Steelers and was one of the players responsible for leading the team to its many championship games. Bradshaw has written three books, is an enthusiastic motivational speaker and co-host of an Emmy-winning football pregame show. His popularity continues to be as strong today as it was when he was a National Football League Hall of Fame inductee.
The Today in America Terry Bradshaw show covers topics which are beneficial to the professionals and to any one who wants to learn something new. Topics such as family recreation ideas, the environment and technology are featured through interviews with guests and visits to thriving businesses. It films on location in the United States and Canada, and airs on regional and national cable television networks favoring business related news. Learn more at todayinamericatv.com or visit the show on social media favorites Facebook, Twitter, YouTube and Google+.