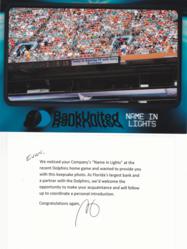 We are so excited we won this small business contest and saw our name in lights at the Miami Dolphins stadium.
Coral Springs, FL (PRWEB) October 20, 2012
Today in America TV with Terry Bradshaw is excited to announce that they won a Florida small business contest called "Get Your Name in Lights. The outstanding educational program was thrilled to see the show's name on the 400 level scorelock at a recent Miami Dolphin's home game. The contest, sponsored by BankUnited and Fins Integrated Media Group, LLC, is still open to Florida small businesses, runs from August 15 to December 9, 2012 and participants are limited to one entry per person per day. Please visit the "Get Your Name in Lights" website for more information how to enter and how to claim your prize.
Show host Terry Bradshaw is a former Pittsburgh Steelers quarterback and NFL Hall of Fame inductee. He was one of the players that was influential in leading the team to four Super Bowl wins and other national championship victories. Bradshaw retired from the grid iron in the mid 1980s and has worked as a professional football commentator and analyst for close to 30 years. Today, he is one of the favorite co-hosts of any Emmy-winning pregame show, an often requested motivational speaker and a frequent guest on talk shows.
The informative show explores topics which are relevant to business professionals and their lives. It reviews the trends in the educational, financial, home and lifestyle industries as well as other relevant areas. Today in America Terry Bradshaw films in the United States and Canada and is broadcast on regional and national cable television networks. Learn more about Today in America with Terry Bradshaw at todayinamericatv.com. Social media fans are encouraged to engage the show on Facebook, Twitter and YouTube. No one from the show or its staff and production team is responsible for any contest entrant's entries.