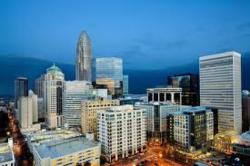 Charlotte is the 2nd largest financial market in the country. It is a great city in which to broadcast.
Coral Springs, FL (PRWEB) November 02, 2012
There are cities in the United States which are great for business and then there is Charlotte, North Carolina. The Southern city is well-known for being the second largest financial capital in the country. But it is also a top place for its affordable cost of living, a superb educational system and for being a leader in new business. It is a power horse for distribution and transportation. The region links to 23 states with two rail systems and its airport won an Eagle Award in the "Best Airport" category from the International Air Transport Association (IATA). And under the state constitution, it must operate all levels of state and local government with a balanced operating budget – a phenomenon for a U.S. metropolis during a recession. Today in America TV is proud to present November air dates for Charlotte on WAXN-TV 64 Eyewitness News.
Host Terry Bradshaw is one of the most popular sports celebrities in the nation. He was the starring quarterback for the Pittsburgh Steelers who was influential in leading the team to four Super Bowl victories. In the process, he earned two "Most Valuable Player" titles and an induction into the Pro Ball Hall of Fame. An aggravated injury forced Bradshaw to retire in the mid 1980's. Since then, he has worked as a commentator and analyst, and most recently, as one of the Emmy-winning co-hosts of a pregame show. Those who have met Bradshaw know he is down-to-earth and funny, which often leads to motivational speaking engagements and talk show invitations.
Today in America with Terry Bradshaw focuses on topics for the affluent business person. It emphasizes and supports the entrepreneurial spirit of America; it accentuates new ideas and the creative minds behind them. The educational show films throughout the country and Canada. It is broadcast on regional and national cable television networks geared toward business news and information. More information is available at todayinamericatv.com and on social media sites Facebook, YouTube and Google+.