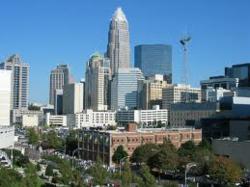 Charlotte is one of the most important cities in the country for business. Today in America TV is proud to be broadcast there.
Coral Springs, FL (PRWEB) October 05, 2012
Television reaches more people in the United States than any other medium. The Today in America Terry Bradshaw show is pleased to announce October air dates for Charlotte, North Carolina – the biggest city between Washington, DC and Dallas, Texas. More than half of the U.S. population can reach this mid-sized gem of a city within a 2 hour's flight time or one day by vehicle. It is home to Fortune 500 companies and the headquarters for some of the largest financial institutions making it desirable for new and relocating businesses. Families moving to the area have plenty of recreation options as it is just two hours east of the Appalachian Mountains and three hours west of the Atlantic Ocean. It may seem like a big city to some but Charlotte maintains its southern hospitality. Residents and visitors can watch the educational and entertaining program on WAXN-TV 64 Eyewitness News.
Terry Bradshaw, the former Pittsburgh Steelers quarterback, hosts the innovative program. He is one of the most recognized and beloved sports celebrities in the country. His skill and natural leadership helped assist the team in winning four Super Bowl games and he earned an induction into the NFL Hall of Fame. Bradshaw retired after 14 years in the sport and has worked in broadcasting as a commentator and analyst since then. He is now one of the favorite co-hosts of an Emmy-winning pregame show and a spokesperson for name-brands Nutrisystem and Ferguson Industries.
Today in America TV explores topics which its viewers find useful and informative. It reviews costs and complaints from economic development leaders to help improve community images and features business related topics. The engaging show films on location throughout the nation and in Canada, and is distributed on business oriented cable television networks in regional and national media markets. Please visit todayinamericatv.com for more information or to watch sample videos and connect to the program's social media pages.