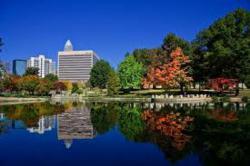 The best in educational programming is available for the Queen City.
Coral Springs, FL (PRWEB) May 11, 2012
Charlotte, North Carolina is the second largest banking center in the United States. A Southern city, it offers an abundance of activities that everyone will enjoy, from the arts to sports. The cost of living in the jewel of the South is below the national average. It is the third best metro area for businesses hoping to relocate. Baby boomers will love the city as it was voted one of the Most Romantic Cities for Boomers. Charlotte offers 175 parks, a gold mine where you can pan for gold, and the best in the arts. Residents and visitors can watch the award-winning Today in America TV television program on WAX-TV 64 Eyewitness News.
The host of the engaging television show is sports celebrity Terry Bradshaw. He was the leading quarterback for the Pittsburgh Steelers who led the team to four Super Bowl victories. His skill on the grid iron earned Bradshaw an induction into the Pro Ball Hall of Fame and was twice voted "Most Valuable Player" in his 14 year career with the NFL. He retired in 1984 and has worked as an actor in such films as "Failure to Launch", authored several published books and been a sports commentator. He is on a network sports channel as an analyst and is busy as a spokesperson for Nutrisystem.
The Today in America Terry Bradsha w show covers topics that are relevant to the lives of educated professionals. The informative cable television program films throughout the United States and Canada and is professionally edited in Coral Springs, Florida. The show airs nationally and regionally on business oriented cable networks. Please visit todayinamericatv.com for more information about the show, its host or to view the fan page. The educational program engages on all social media platforms such as Face Book, YouTube and Twitter.