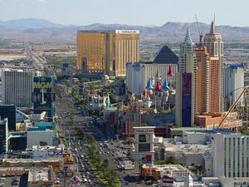 Las Vegas is a great place for new and relocating businesses. We are thrilled to be on the air in the area.
Coral Springs, FL (PRWEB) November 09, 2012
Las Vegas, Nevada is called many things and one of them is the "Capital of Second Chances". The award-winning Today in America TV is thrilled to release air dates for the month of November in the city millions come to visit for whatever reason.
There are nearly 40 million people coming to Las Vegas every year for either fun or business. Of those, about four million attend something close to 20 thousand conventions. Facilities for conventions in Las Vegas parallel no other in terms of flash and marketing. Las Vegas is one of those fortunate cities where there are no state, city or franchise taxes. The redevelopment of the downtown area leads to affordable, decent apartment homes and new business opportunities. A multitude of hotel rooms means everyone will find the right place to relax and regroup after a day of meetings. Residents and visitors can watch the outstanding, educational program, hosted by NFL star Terry Bradshaw, on 8 New Now on Cox Cable in any part of the city.
The Pro Ball Hall of Fame quarterback is one of the most well-known and beloved sports celebrities in America. His football talent and natural leadership qualities earned Bradshaw two "Most Valuable Player" titles and a spot in professional ball history. He is now a co-host for a pregame show on a national television network, a best-selling author and spokesperson for Nutrisystem.
The Today in America Terry Bradshaw show scours the country and the globe for interesting and inspiring stories of success and leadership. It features interviews with enterprising new and small business owners. The program covers topics which relate to almost every facet of everyday living. Viewers can watch the show on regional and national cable television networks which focus on business information. Visit todayinamericatv.com for more information and to find air dates for your city. Social media fans are welcome to engage the show on Facebook, Twitter, YouTube and Google+.