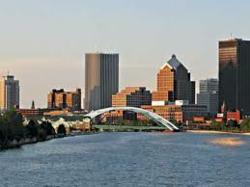 We welcome "Flour City", Rochester, New York to our growing list of media markets.
Coral Springs, FL (PRWEB) October 09, 2012
Rochester, New York is the third-largest metropolitan area in New York State. It ranks second from the Farmers Insurance Group of Companies for 2011 as one of the Most Secure U.S. Places to Live. Today in America TV is pleased to announce October air dates for the city and surrounding area. Rochester is mostly known for being the home to the Eastman Kodak Company but also for its leading role in traditional and evolving imaging services. It is also famous for being the city where the first enclosed suburban mall was built, the first thermometers and the flour for graham crackers were manufactured there, thus the moniker "Flour City". Visitors and residents can see the first-rate, educational program, hosted by Terry Bradshaw, on FOX WUHF-TV.
The former Pittsburgh Steelers quarterback is known as one who helped lead his team to four Super Bowl victories and other national championship wins. Bradshaw possessed the skills and leadership quality needed in professional football which eventually led to his induction into the National Football League Hall of Fame. Since his retirement in the mid 1980s, he has worked in sports broadcasting as a commentator and analyst. He is now working as one of the favorite co-hosts of a pregame show, he is an often requested motivational speaker and a spokesperson for Nutrisystem.
The Today in America Terry Bradshaw producers scour North America for the best, most innovative and intriguing topics and people to share with the viewer. Learn something new in areas such as smart home technologies, DIY home solutions and many more useful subjects. The show films in the United States and Canada and is broadcast on cable television networks focusing on business news and information in regional and national media markets. More information is available at todayinamericatv.com or on social media platforms Facebook, Google+, and YouTube.