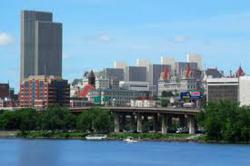 Proud to air in New York state's capital of Albany.
Coral Springs, FL (PRWEB) October 10, 2012
The educational and exceptional Today in America TV is pleased to present October air dates for Albany, New York – the state's capital city. The city is one of the oldest surviving European settlements from the original 13 colonies and the longest continuously chartered city in the U.S. It has many architectural styles which fascinate visitors. Albany's economy has long been a stable one due to the strength of employing about a quarter of its residents in local and state government positions and supporting businesses. Residents and visitors enjoy more than 60 parks and recreation areas as well as a unique egg-shaped entertainment complex, and the opportunity to see the informative program hosted by former Pittsburgh Steelers quarterback Terry Bradshaw on WRNN-TV "New York's Regional News.
The respected National Football League Hall of Fame inductee played for the legendary western Pennsylvania team for 14 years before he retired in 1984. Bradshaw is one of the most beloved sports celebrities in the United States. He is often requested to speak at inspirational meetings for large corporations, visit with guests on talk shows and is the spokesperson for name-brands Ferguson Industries and Nutrisystem. His popularity is as strong today as it was when he led the team to four Super Bowl victories.
The Today in America Terry Bradshaw show is an outstanding program which covers the topics affecting educated professionals and their business and work lives. It taps into the financial, high-tech, medical, educational and other industries to find and share useful information with the audience. The show films in North America and is edited in state-of-the-art studios in South Florida. It is broadcast on regional and national cable television networks focusing on business oriented news and information. Learn more at todayinamericatv.com or on Facebook, Twitter or YouTube.