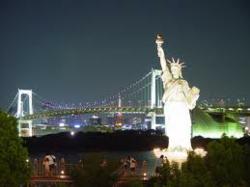 Always on the move to bring the best in programming.
Coral Springs, FL (PRWEB) April 16, 2012
"The city that never sleeps", New York City, New York is also nicknamed "the city so nice, they named it twice". This energetic and exciting place has 4,000 street vendors and the world's largest mass transit system – the subway. It has multiple bridges carrying travelers to its five different boroughs. The famous Brooklyn Bridge was the first bridge to be lit using electricity. The city is the most populated city in the world and since 2005, has the lowest crime rate of the 25 largest U.S. cities. Its location is vital to the global economies of many countries, including the United States. New York City is a cultural and entertainment smorgasbord with museums of every kind and small and large live theaters. Residents and visitors to this area can watch Today in America TV on WRNN-TV "New York's Regional News Network".
Terry Bradshaw is the host and narrator of the cable television show. He is a former professional football player, television co-host and has authored several published books. His 14 year career with the Pittsburgh Steelers earned him a place in the Hall of Fame. His skill and talent on the grid iron was honored by twice receiving the "Most Valuable Player" distinction by his peers. He retired in 1984 and began working in television. He is now on Fox NFL Sunday as an analyst and is a spokesperson for Nutrisystem, the weight loss program.
The Today in America Terry Bradshaw show is available nationally and regionally on many popular television networks. The show explores topics that are relevant to the lives of every day people. Learn more about the environment, on-demand software and family recreation ideas, plus more, in a manageable amount of time. The compelling program films throughout the United States and Canada. For more information about the program, please visit todayinamericatv.com.