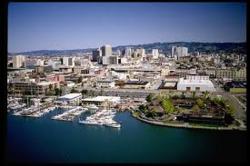 A proud leader in environmentally responsible programming, Today in America TV airs in Oakland, CA – the number 1 city in the state for using renewable energy.
Coral Springs, FL (PRWEB) August 24, 2012
The standout educational program Today in America TV welcomes Oakland, California to its family of media markets. The city is a culturally diverse area in population with residents from around the world and an active, hip art scene. The New York Times ranked it fifth, in between London and Tokyo, on "The 45 Places to Go in 2012" list. It was also the highest ranking North America city on the list. Oakland is the principal city in the East Bay region and a major transportation hub with an active, international container port. Viewers in the East Bay area can watch the Telly award-winning program, hosted by an American professional football legend, on ION KKPX-TV.
No other sports personality in the nation has a better Q rating than former Pittsburgh Steelers quarterback Terry Bradshaw. The National Football League Hall of Fame inductee is well-known and popular because of his warm and friendly demeanor and self-effacing sense of humor. He is a favorite motivational speaker who can easily relate to and speak with many different people from all walks of life. Bradshaw is also a co-host for an Emmy-winning football pregame show, author of three books and a frequent guest on late night talk shows.
Today in America with Terry Bradshaw is a unique program which features interviews with fascinating guests in many different fields. There are a variety of topics on the show from home and lifestyle to health and business. No one will have a hard time finding something to watch. The compelling show films on location throughout the country and in Canada and airs on regional and national cable television networks. More information about the program, its host and sample videos can be located at todayinamericatv.com. Social media fans are welcome to visit the show on Facebook, Twitter and Google+.