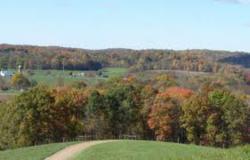 Quality, educational programming for The Buckeye State.
Coral Springs, FL (PRWEB) July 07, 2012
Today in America TV is pleased to announce that the innovative program will be broadcast in the state sometimes called the "Mother of Modern Presidents" during the month of July. Ohio has sent seven natives and residents to the White House since 1869. It is also the home to the Rock and Roll, the National Underground Railroad Freedom Center in Cincinnati and the National Football League Hall of Fame in Canton. Ohioans and visitors to the Buckeye State can watch the engaging television show on ONN- Ohio News Network.
Show host Terry Bradshaw is an NFL Hall of Fame inductee from 1989. He was the dominant quarterback for the Pittsburgh Steelers who was the anchoring member that led them to four Super Bowl wins. He was named Most Valuable Player in two of the four Super Bowl games. His natural skill and talent for the sport is widely known and well-respected. He often called his own plays, which many of today's quarterbacks have not done. Bradshaw retired from the game in 1984 and has worked in sports broadcasting for more than 20 years. His popularity and fame has always kept him in the public eye as an actor, singer, best-selling author, favorite motivational speaker and Nutrisystem spokesperson.
Today in America TV reviews current news and information as it relates to the lives, work and relaxation of its educated audience. Topics on the show are diverse and may include best in smaller higher education schools, family recreation, and many more of general interest. The informative television show takes pride in being a leader of quality, educational programming. It films on location around the country and airs on regional and national business oriented cable networks. For more information about host Terry Bradshaw, or to watch sample videos, please visit todayinamericatv.com.