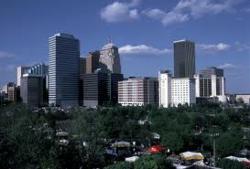 Some of America's Okies are America's best military veterans.
Coral Springs, FL (PRWEB) July 17, 2012
The award-winning Today in America TV is pleased to announce July air dates for the Oklahoma City, Oklahoma, the largest city and capital in the state. It ranks number one for military retirees by Sterling's Best Places in connection with mega financial services provider, USAA and Military.com. Most military retirees end their service careers between ages 30 to 40. The ranking considered things like the low unemployment rate, number of federal government jobs, veteran-owned businesses and prevalence of military skill related jobs. While other cities witnessed a population decline over the past 10 years, Oklahoma City had growth over 11 percent. Despite the influx of people moving there, the commune time is only 22 minutes (US average is 30 minutes). Okies and visitors can watch Today in America TV on FOX KOKH-TV.
Show host Terry Bradshaw is one of the country's most popular and beloved sports celebrities. The veteran Pittsburgh Steelers quarterback was influential in guiding the team to four Super Bowl game victories and eight AFC championship titles. His skill, talent and leadership earned Bradshaw an induction in to the Hall of Fame and he was twice given the Most Valuable Player title. He retired in 1984, after 14 seasons with the NFL, and has worked in football as a reporter, commentator and analyst for more than 20 years. Bradshaw is spokesperson for Nutrisystem and a frequently requested motivational speaker.
Today in America with Terry Bradshaw reviews current trends for home, work and relaxation time. The captivating show features topics that relate to the environment, health and wellness, technology, plus many more. It films on site throughout the country and the globe and is broadcast regionally and nationally on business oriented cable networks. To learn more about the program, its host or to see sample videos, please visit todayinamericatv.com.