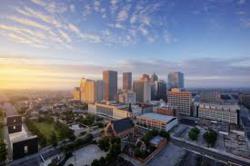 Oklahoma City is one of the largest American cities and we are proud to broadcast there.
Coral Springs, FL (PRWEB) September 22, 2012
Today in America TV, the absorbing, educational program is pleased to release September air dates for a great American city – Oklahoma City, Oklahoma. It is an area rich in livestock markets, natural resources and is a quickly becoming a major sector for information technology, health services and more. The city has a low unemployment rate, beautiful weather and is home to many Fortune 500 companies. Thriving Bricktown offers plenty of exciting fun and delicious places to eat. These factors, as well as having a steady economic expansion, put in the best places to live, work, play and vacation in the US. Residents and visitors in Oklahoma City can watch the stand-out program on ION KOPX-TV.
Show host Terry Bradshaw is a former professional football player and NFL Hall of Fame inductee. He played for the Pittsburgh Steelers for 14 years before he retired and went into broadcasting. Bradshaw has worked as a pro ball commentator and analyst for more than 20 years on various national television networks. He is busy co-hosting an Emmy-winning pregame show, speaking at motivational events for corporations and as a spokesperson for Nutrisytem. Bradshaw, one of the most recognized sports celebrities in the country is also a frequent talk show guest.
Today in America Terry Bradshaw is a unique program with an emphasis on the topics relevant to every day life. It covers a diverse range of subjects from home and travel to the environment and education. The audience gets an inside look at exciting new businesses and meeting entrepreneurs in the news. The engrossing show spans the country and films throughout North America to share intriguing stories with the viewer. It is broadcast on regional and national business oriented cable television networks in many major media markets. More information is available at todayinamericatv.com.