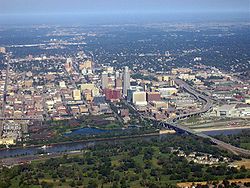 Today in America TV offers the audience a gateway to information on topics that influences their lives.
Coral Springs, FL (PRWEB) March 03, 2012
Omaha, Nebraska, also known as "Gate City" because of it's centrality in the nation and access to the gold fields of Colorado, is the largest city in the state. Today in America TV is pleased to announce March air dates for this thriving city. The award winning program will air on Fox 42 News-KPTM-TV.
Its size matches the accomplishments of the city to the people who were born and raised there. Its most prominent businessman is Warren Buffett. Montgomery Clift, the handsome actors of years gone by was born and raised in Omaha and his family house still stands. . A fun fact from the area is Academy Award winning actor Henry Ford was born there and encouraged to try acting by Marlon Brando's mother at the Omaha Community Playhouse. The playhouse is the largest one in the country.
Today in America TV brings viewers educational stories about what's happening in a variety of fields around the country and around the world. Our host, Terry Bradshaw is a popular sports celebrity. He holds the honor of being the first quarterback ever to win four Super Bowl Championships. Twice named as Super Bowl "MVP", Bradshaw holds Super Bowl all-time passing records to this day. During his long and respected career, he was also inducted into the Hall of Fame. He can be seen on Fox NFL Sunday as an analyst.
Today in America with Terry Bradshaw is committed to informing the audience about topics that influence their lives. The program covers subjects such as family recreation, health and wellness and renewable energy solutions as well as many more. The show can be seen on local, regional and national cable channels such as CNN Headline News, Fox Business Morning, and ESPN 2 and ION. For a Today in America sample or to peruse the cool Magazine, please visit todayinamericatv.com.
###