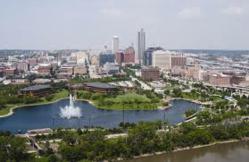 A leader in outstanding, educational programming.
Coral Springs, FL (PRWEB) August 08, 2012
August air dates are announced by Today in America with Terry Bradshaw for one of the most affordable cities to live in the United States – Omaha, Nebraska. Its cost of living is 11 percent below the nation's average. It is also notable for its inexpensive housing, good schools, and relatively few social and environmental problems. The city is known as the country's insurance and telecommunications center and is home one of the oldest known live theaters in America. It is located near the center of the country and continually ranks high by Sperling's Best Places in very notable categories:
2011 – Eight in Most Secure Places to Live in the United States
2011 – Ninth in Best Places for Military Retirees
2010 – Third in Best Places to Relocate To
Residents and visitors to Omaha can watch the Telly award-winning show, hosted by NFL Hall of Famer Terry Bradshaw, on ABC KETV-TV.
The well-known and beloved former Pittsburgh Steelers quarterback is the host and narrator. Bradshaw played for the National Football League for 14 years before retirement. He was one of the legendary players who helped lead the team to four Super Bowl victories – often calling his own plays. His down-to-earth personality and charisma led to speaking engagements and later to name-brand endorsements. Bradshaw is a best-selling author, speaker and one of the co-hosts with an Emmy-winning sports program on a national television network.
The Today in America Terry Bradshaw show covers a variety of topics that engage the viewer. The innovative program takes pride in bringing programming about the environment, education, health and home to its audience. It features interviews with the movers-and-shakers in all industries. The show films on location throughout the country and airs on regional and national business oriented cable television networks. More information and the broadcast schedule are available at todayinamericatv.com.