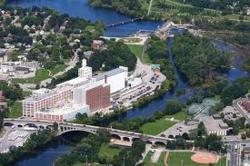 We are excited to reach the viewing audience in Peterborough.
Coral Springs, FL (PRWEB) October 06, 2012
The exceptional Today in America TV is excited to announce the release of October air dates for the city of Peterborough, Ontario, Canada. It is located one hour from the Toronto area and is the regional center for the province. There are more than 130 lakes in the area, the air is clean and the community is safe making it one of the best places to live, work and play. Peterborough is the gateway to the Kawarthas, or cottage country, which is a large recreational part of region. It regularly makes the top 10 on "Canada's Best Places to Live" lists. The city gives new immigrants a warm and sincere welcome and coupled with its low cost of living, Peterborough is a winner for newcomers. The educational program starring American NFL star Terry Bradshaw can be seen on CHEX-TV CBC Affiliate.
The former professional football player is one whose popularity never fades. Thirty years after his retirement from the sport, Terry Bradshaw is still recognized as one of the greatest athletes in the United States. His induction into the pro ball Hall of Fame is a clear indication of his contribution to the sport. He is a favorite co-host of a hit pregame show, a published author, an occasional talk show guest and spokesperson for name-brands Nutrisystem and Ferguson Industries.
The Today in America Terry Bradshaw show is a unique program which explores topics of interest to educated professionals. It reviews subjects such as the environment, residential communities of distinction, cloud computing and more. The show films on location in North America and is broadcast on regional and national business oriented cable television networks. Please visit todayinamericatv.com for more information or to watch sample videos. Social media enthusiasts are welcome to visit the program on Facebook, Twitter, Google+ and YouTube.