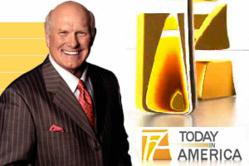 Always bringing the United States and Canada the best in original cable TV programming.
Coral Springs, FL (PRWEB) March 22, 2012
Thunder Bay, Ontario is located in Northwestern Ontario, Canada and is the largest city in that area. This vibrant town known for its historical parks and the Sleeping Giant formation of mesas and sills, which make up Sibley Peninsula, received its name from people who said it looked liked a reclining giant from across the bay. Residents and visitors to the area will be able to watch Today in America with Terry Bradshaw on cable channel TB Television on CKPR-TV.
A naturally beautiful area, Thunder Bay is a culturally active city with many theaters, museums and festivals. Outdoor enthusiasts can enjoy golf, skiing and skating on the many ice rinks. The well known Fort William Historical Park is one of Canada's historical sites to visit and a family friendly place to have fun. The downtown Port Arthur area, also called The Heart of the Harbor, is another enjoyable place to take the kids. Thunder Bay is the region's commercial, administrative and medical center. Many of the city's largest single employers are in the public sector.
The host of Today in America Terry Bradshaw is a beloved and respected sports celebrity. Hall of Famer Terry Bradshaw played professional football for fourteen years before retiring from the gridiron. He has worked in the television industry for over 30 years as a host for CBS Sports and currently is an analyst for Fox NFL Sunday. His friendly and honest personality often leads to inspirational speaking appearances where he shares his life story with the audience.
Today in America TV is filmed around the world and professionally edited in Coral Springs, Florida. The show reviews topics relating to lifestyle, the environment, business and many more subjects that viewers will find informative. It is formatted to be convenient to watch and airs on local, regional and national cable television networks. Interested people can engage the show on the popular social media platforms including Twitter. For more information, please visit todayinamericatv.com.