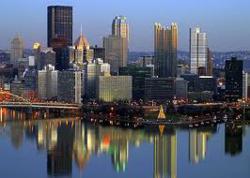 "The Steel City" will be able to watch Today in America TV during the rest of the month.
Coral Springs, FL (PRWEB) October 24, 2012
Pittsburgh, Pennsylvania is city which almost anyone would love. It has 89 ethnic neighborhoods, each with its own flavor, more than 700 bridges, affordable housing, a robust arts scene and a downtown glistening in shiny steel skyscrapers. Today in America TV is pleased to announce air dates for "The Iron City". What many people do not know about Pittsburgh is that it has one of the largest inland ports in the U.S which provides access to the nation's 9,000 mile inland waterway system. The Heinz Brothers, who made Heinz ketchup and other products famous there, once bought the products and equipment of a competing company and threw them all in the Allegheny River. Pittsburghers are well-known for being vocally and physically strong in support of anything having to do with their hometown. This applies to the more than 100 Pittsburgh related bars and restaurants throughout the United States, including those dedicated to hometown NFL team, the Pittsburgh Steelers. The educational show can be seen on PCNC – Pittsburgh Cable News Network.
Terry Bradshaw was the quarterback for the Pittsburgh Steelers who helped lead the team to four Super Bowl wins. His skill for the sport and his natural leadership skills earned Bradshaw a place in the Pro Ball Hall of Fame. He graduated from Louisiana Tech and was a first round draft choice for Pittsburgh. He played for the Steelers for 14 years before an aggravated injury forced him to retire. Bradshaw went on to work in broadcasting for more than 20 years as a commentator and analyst. Now, he is a co-host for a pregame show, a sold-out motivational speaker and frequent talk show guest.
Today in America with Terry Bradshaw is an original program which reviews topics on the way we live, work and play. It features interviews with entrepreneurs, successful business people and others who offer innovative products and services. The show films in the United States and Canada. It is distributed on regional and national cable television networks geared toward business related news and information. More information is available at todayinamericatv.com or on Facebook, Twitter and YouTube.