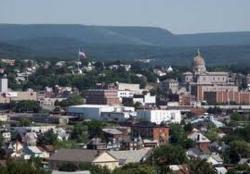 Bringing the best in quality, educational programming to two beautiful cities.
Coral Springs, FL (PRWEB) July 12, 2012
Today in America TV welcomes two Pennsylvania cities to the list airing in the month of July. Altoona is a small town which ranked as one of the most Secure Places to Live by Sperling's Best Places in 2011. The quaint small city sits nestled in the mountains and is known for its roots in the railroad industry and is nickname The Mountain City. Johnstown, once well-known for its flood history, is becoming an area rich in the high-tech defense and health care industries. Residents and visitors to the area can watch the informative program on CBS WTAJ-TV.
There are hardly any Pennsylvanians who do not know who Terry Bradshaw is. He was the starring quarterback for the Pittsburgh Steelers who led the team to four Super Bowl victories and many other national championship titles. His skill and talent for the sport earned Bradshaw an induction in to the National Football League Hall of Fame. The charismatic sports celebrity played for the NFL for 14 years before he retired. Since then, he was worked as an actor, writer of best-selling books, football commentator and analyst. He has appeared in feature films and guest starred on televisions series. Bradshaw is also a favorite motivational speaker, one of the famous Nutrisystem spokespeople and often a guest on late night talk shows.
Today in America with Terry Bradshaw reviews topics that reflect how we live, work, play, and communicate with each other. It offers compelling segments on topics such as the environment, family health, home schooling essentials, plus many more that relate to everyday living. The enlightening show films on location and airs regionally and nationally on many well-known business oriented cable networks. More information about the show is available at http://www.todayinamericatv.com or on social media favorites Facebook, Google+ and YouTube.