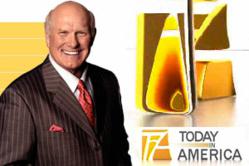 Dedicated to airing topics that help people live, work and play better.
Coral Springs, FL (PRWEB) February 19, 2012
The Producers of Today in America TV are happy to announce the cable television show that is committed to informing viewers about subjects that affect them will be airing in the Philadelphia, PA and surrounding areas during the month of February. This region is well known for its prominence in American history. The first American flag was made here and it's well known that the Declaration of Independence was written and signed here. Few know that William Penn, founder of the state, got kicked out of his university for religious non conformance here. The show's topics include family wellness, breaking free from addiction, credit repair and debt solutions which touch on the region's vast history of the fight for freedom. Residents and area visitors can watch the innovative programming on WFMZ-TV.
Terry Bradshaw, Today in America TV host, played professional football for 14 years. During his long and respected career, he led the team to four Super Bowl Championships, was twice named MVP and won the Hall of Fame award. After he retired from the game, he has been active in acting, signing and has authored two books. He can now be seen on Fox NFL Sunday as an analyst. Mr. Bradshaw's open and honest personality makes him a sought after motivational speaker and is one of the most trusted sports celebrities in the world.
Today in America with Terry Bradshaw is a cable television program dedicated to viewers who are interested in emerging business technology, health and wellness and family subjects. The production team identifies compelling stories about industries, entrepreneurs, businesses, schools and more from the United States to Canada. The show can be seen on local, regional and national cable channels such as CNN Headline News, Fox Business Morning, and ESPN 2 and ION. For more information about the show, or to watch clips from previous episodes, please visit todayinamericatv.com.
###