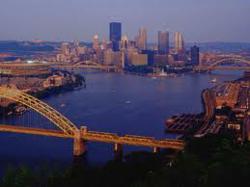 Best in quality, educational programming for "The Most Romantic City for Seniors" – Pittsburgh, PA.
Coral Springs, FL (PRWEB) September 14, 2012
No other television program offers what the first-rate Today in America TV brings to its audience – quality, educational programming. The award-winning show is pleased to announce September air dates are up for the city of Pittsburgh, PA and the surrounding areas. Residents and visitors can watch the program on PCNC – Pittsburgh Cable News Network.
Many children who were born before 1965 will remember the sticker moms put on poisonous bottles to keep children away from them – Mr. Yuk. The iconic symbol was created by the Poison Control Center at Children's Hospital in Pittsburgh. They determined that the formerly used skull and crossbones had no meaning to kids who thought the symbol meant pirates and adventure. Thus, Mr. Yuk was born. The city, which has more than 1,000 bridges is home to nine Fortune 500 companies. The once gritty steel city has become one of technology and healthcare. "Steel City" is one of the best places in America for retirement, according to Sperling's Best Places and has a diverse variety of cultural activities for people of all ages.
The Today in America Terry Bradshaw producers span the country and world for the most intriguing and inspiring stories of success, ingenuity and innovation. Hosted by former Pittsburgh Steelers great Terry Bradshaw who welcomes the viewer, the show is a useful and entertaining resource for entrepreneurs. The NFL Hall of fame inductee remains as popular today as he was during his 14 year professional football career. His many years in broadcasting make him a natural in front of the camera. Football fans know him from the Emmy-winning pregame show he co-hosts with other sports celebrities.
Today in America with Terry Bradshaw films throughout the nation and is broadcast on regional and national business oriented cable television networks. Watch sample videos, read more about host Terry Bradshaw and more at todayinamericatv.com.