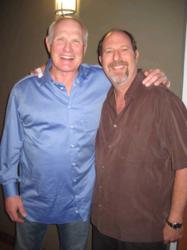 I really enjoy learning about the new trends in this industry. It is very cool and things change on a regular basis.
Coral Springs, FL (PRWEB) November 03, 2012
Today in America TV is pleased to announce producer Ron Goodman has been chosen to lead the new environmental series. His experience and strong personal commitment to a greener world led to the prestigious assignment. He enjoys all aspects of producing but especially finds it rewarding to talk to potential guests. He states that learning something new every day is one of the best parts of his job. Goodman originally hails from New York and has been with the first-rate educational program for eight years. His advocacy for sustainable energy and others will be a great advantage for the program and its viewers.
Terry Bradshaw is one of the most popular and well-known sports celebrities in the United States. He was the Pro Ball Hall of Fame inducted quarterback for the Pittsburgh Steelers who helped lead the team to four Super Bowl triumphs. His skill and talent on the field earned Bradshaw two MVP titles and other skill and leadership recognition awards. He retired from the grid iron in the mid 1980's. He has entertained football fans on television as commentator and analyst for almost 30 years. His unique sense of humor and ability to move an audience often leads to motivational speaking engagements.
The Today in America Terry Bradshaw show explores topics which will inform and educate the viewer. It tackles all industries including education, business and technology and examines costs relating to healthcare, management and home. The award-winning program films in the United States and Canada, and airs regionally and nationally on business oriented cable television networks. Visit todayinamericatv.com for more information, to see where and when the program airs for your city and learn more about host Terry Bradshaw. Social media enthusiasts are encouraged to Like the show on Facebook, tweet it on Twitter and watch sample videos on YouTube.