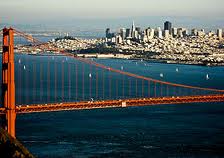 A compelling, educational program for an exciting city – Today in America TV airs in the city of the Golden Gate Bridge.
Coral Springs, FL (PRWEB) August 22, 2012
The standout program Today in America TV is pleased to welcome San Francisco, California to it growing list of American and Canadian media markets. The city is famous for its coffee shops, the Golden Gate Bridge, denim jeans, civil rights activism, and much more. Jeans were invented for the Gold Rush miners who needed tough, comfortable clothing. The famed and picturesque Golden Gate Bridge needs 17 iron workers and 38 painters who continually fight rust and new its well-known orange paint on its 1.7 mile span. The city also has more than 300 coffee shops where locals and visitors can watch the riveting educational program, hosted by one of America's most popular sports celebrities, on ION KKPX-TV.
Terry Bradshaw, a former Pittsburgh Steelers quarterback, is the host and narrator of the informative and entertaining show. He was one of the starring players who helped lead the team to four Super Bowl victories and therefore turned the team into a powerful force on the grid iron. His skill and talent earned Bradshaw an induction into the National Football League Hall of Fame. He retired from professional football in 1984 and immediately began working in sports broadcasting as a color analyst and co-host for football related sports shows. Today, he is a favorite inspirational speaker for corporate events and conferences, spokesperson for Nutrisystem.
Today in America with Terry Bradshaw is a proud leader of quality, educational programming. The enlightening show covers topics that are valuable and useful and in an entertaining manner. Viewers learn about emerging breakthroughs in the healthcare field, how green businesses are changing the world, and so much more. It films on location throughout the United States and Canada and airs on regional and national business related cable television networks. Please visit todayinamericatv.com to view the broadcast schedule, see sample videos or learn more about host Terry Bradshaw.