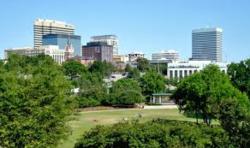 A leader in quality, educational programming airs in the city that leads southern hospitality.
Coral Springs, FL (PRWEB) July 19, 2012
The award-winning Today in America TV is pleased to announce July broadcast dates for the city of Columbia, South Carolina. The Capital of Southern Hospitality was named one of the best 25 places to retire by CNNMoney.com, in 2011, due to its year-round great weather, lower income taxes, great parks for outdoor fun, plenty of higher education facilities for lifelong learning and an abundance of golf courses. If one needs a break from all the energetic activity, Today in America TV with Terry Bradshaw airs on CBS WLTX-TV in the month of July. The inspiring program offers enlightening information on a diverse array of topics that relate to family and home, hosted by one of the nation's most recognizable sports celebrities.
Terry Bradshaw, a former professional football player, narrates the program. The former Pittsburgh Steelers quarterback earned his legendary status during the 14 years he played for the team. The team became a formidable force to beat at that time and earned its place in professional football history. Bradshaw is a National Football League Hall of Fame inductee and a two-time Most Valuable Player title holder. He retired in 1984 and has worked in sports broadcasting for more than 20 years. His lasting popularity and fame keeps him busy with motivational speaking engagements and product endorsements.
The engaging show is proud to be a leader of quality, educational programming.
Today in America with Terry Bradshaw explores topics that relate to the way people live, work and play. It highlights innovative new companies and products as well as to inform the audience about technological advances, healthcare solutions and how to redefine retirement in the 21st century. The provocative show films on site around the globe and airs regionally and nationally on business oriented cable networks. More information is available at todayinamericatv.com or on favored social media site Facebook.