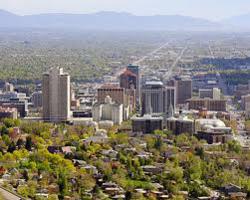 Always bringing the audience easy to watch shows about subjects affect their lives.
Coral Springs, FL (PRWEB) March 04, 2012
Salt Lake City, Utah is home of the Mormon church, yet half its population is Mormon. It has a strong outdoor recreation reputation and is well known as a great place for skiing. It played host to the 2002 Olympic Winter Games. It is also has been host to some parts of the Sundance Film Festival, one of nation's largest independent film festivals. The award winning Today in America TV program can be seen on local cable channel KJZZ-TV.
There are some cool facts about this city nestled beneath majestic mountains. Its founder designed the city streets to be wide enough to turn a wagon team around without cussing. Streets run in a very easy to follow grid, as do most Mormon cities. Other than bearing the nickname "Crossroads of the West", in 2012 it was also called "The Gayest City in America" by a national magazine, for its large and well organized gay population. It was also called the healthiest city for women by rating it on many factors including cancer rates, air quality and the number of gym memberships.
Today in America TV gathers educational stories about what's happening in a variety of fields around the country and around the world and brings it to the viewer in manageable segments. Their host, Terry Bradshaw is a well known and beloved sports celebrity. He retired from professional football after playing for fourteen years. During that time, he led his team to four Super Bowl wins. He was also twice named as Super Bowl "MVP", Bradshaw holds the Super Bowl all-time passing records to this day. He can be seen on Fox NFL Sunday as an analyst.
Today in America with Terry Bradshaw is dedicated to educating the audience about topics that influence the way it lives, works and plays. The program covers topics such as family recreation, finance management and the greening of America, as well as many more. It can be seen on local, regional and national cable channels such as CNN Headline News, Fox Business Morning, and ESPN 2 and ION. For a Today in America sample, please visit todayinamericatv.com.
###