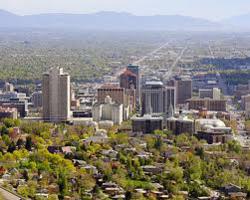 Quality, educational programming for one of the most Romantic Cities for Boomers.
Coral Springs, FL (PRWEB) July 21, 2012
The intriguing Today in America television is pleased to announce July air dates for Salt Lake City, Utah, the state's capital. Resident and visitors to the city with the highest literacy rate in the United States can watch the Telly award-winning program on KJZZ-TV. Salt Lake City is known for its strong Mormon faith. What most do not know about this sky high area is that is has the third longest life expectancy rate in the nation and was ranked number 1 for the Best Fiscally Fit City, by State Farm Insurance and Sterling's Best Places. The engrossing show features the best in America, best in business and other fascinating subjects hosted by one of America's most recognizable sports celebrities.
Host Terry Bradshaw is a former professional football player. He was the quarterback for the storied Pittsburgh Steelers in the 1970's and 80's and was one of many who made the team a formidable force on the gridiron then. His skill and talent on the field earned Bradshaw two Most Valuable Player titles and later, he was inducted in to the National Football League Hall of Fame. He retired in 1983 and immediately went to work in sports broadcasting where is he still employed today. The charismatic Bradshaw is an enthusiastic public speaker and spokesperson for Nutrisystem.
Today in America TV is a proud leader of quality, educational programming. Producers scour the nation to find the most engrossing stories of success to share with the viewer. The riveting show covers topics of a diverse nature. Learn more than you know about the environment, cultural travel, outdoor living, plus many more compelling points of interest. It films on location throughout the country and airs on regional and national business oriented cable networks. Read more about the program, its host or watch sample videos at todayinamericatv.com. Social media fans can visit the show on Facebook, Twitter or YouTube.