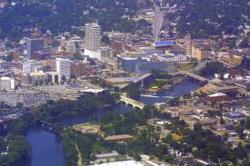 The best in quality programming airs in South Bend, Indiana.
Coral Springs, FL (PRWEB) July 05, 2012
The Telly award-winning Today in America TV program is pleased to welcome one of America's favorite places to its list of broadcasting cities for the month of July. South Bend, Indiana is located in the north-central part of the state and is just 40 miles from Lake Michigan. The iconic area is the birthplace of many things. Moms everywhere can thank Frank Herring, a South Bend resident, as he was the founder of Mother's Day in 1904. The middle of America city is home to the original Studebaker cars. Residents and visitors to South Bend can watch the informative program on NBC WNDU-TV.
Show host Terry Bradshaw leads the viewer through engaging interviews with successful entrepreneurs, unique businesses, leading schools of higher education, plus introduces the audience to the best places to live, work and play. The former Pittsburgh Steelers quarterback is a Pro Ball Hall of Fame inductee and two-time Most Valuable Player title holder. His charismatic personality and easy charm earned Bradshaw plum roles in television and film, and he is a best-selling book author. The popular studio personality works as an analyst for a national television network and is one of the spokespeople for Nutrisystem. The popular and respected sports celebrity is a favorite motivational speaker.
Today in America reviews the most fascinating stories of personal and professional success. Topics on the show cover a wide variety and reflect the lives of active professionals, their families, careers and lifestyle. Learn more about Eco-friendly vacations, home school essentials, the emerging trend of smart home technology, plus many more intriguing subjects on the television program that educates. An interactive website allows visitors to learn more about the show and its host, as well as watch sample videos in the can. Please visit todayinamericatv.com for more broadcast cities air dates and times.