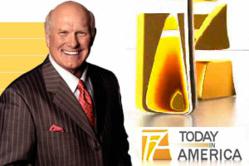 Proud to be a Telly winner and a leader in educational programming.
Coral Springs, FL (PRWEB) June 05, 2012
The shipbuilding industry utilizes special software to design and create the most modern sea-worthy vessels and other specialized equipment. The Today in America TV cable television program and featured guest ShipConstructor Software, Inc. are proud to announce that the segment on the internationally known AutoCAD company won a Bronze Telly award in the 33rd Annual Telly Awards. ShipConstructor is a CAD/CAM software suite that provided detailed design and modeling tools for engineers of maritime structures. It uses a Microsoft SQL server to allow a higher level of adaptability and it is customizable. "We were very pleased with the final product created by Today in America. Our particular episode presented technical challenges the TIA (production) team were able to deal with, creating a Telly Award winning final product," stated a SSI sales executive on the win. For more information about ShipConstructor Software, Inc., please visit shipconstructor.com.
The Telly Awards, founded in 1987, are given to the best in video film and video productions, outstanding local, regional, and cable TV commercials and programs and other categories. It offers Silver and Bronze awards in five different functions.
Terry Bradshaw, former pro ball player, is the host of the educational cable television program. The Hall of Fame inductee played for the Pittsburgh Steelers football team as their Super Bowl winning quarterback. He helped steer the team to many championship titles and earned the title of "Most Valuable Player" twice in his 14 year NFL career. Bradshaw retired in 1984 and has worked in sports broadcasting for more than 20 years. He is one of the famous spokespeople for Nutrisystem, an often requested motivational speaker and a sports analyst for a national television network.
Today in America with Terry Bradsha w covers topics that everyone can relate to, such as family health and wellness, sustainable living solutions and Eco-travel options. The intriguing show takes pride in being a leader in educational programming. It films in the United States and airs on regional and national business oriented cable networks. For more information about the show, please visit todayinamericatv.com or engage it on the popular social media sites like Facebook, Twitter and Pinterest.