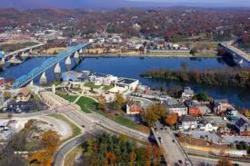 Quality programming for a city that makes its residents number one.
Coral Springs, FL (PRWEB) August 27, 2012
One would not think that a once rural community would have the fastest internet service in the country. Chattanooga, Tennessee, also called "Gig City" earned its nickname when the local electric company EPB, upgraded their system with fiber optic lines to improve service delivery in the area. Like most Southern cities, it is often hit with violent summer storms which can knock power out for hours or days. EPB simply wanted to minimize those outages with a smarter grid. The new system attracted new jobs and boosted their economy. It drew major corporations into the areas. Today in America TV is pleased to report that August air dates are up for Chattanooga, Tennessee. Residents and visitors can enjoy the outstanding informative program on ABC WTVC-TV via its giga-fast lines.
Hosted by former Pittsburgh Steelers quarterback Terry Bradshaw, the innovative program maintains a user-friendly viewing experience. Bradshaw, a National Football League Hall of Fame inductee, played professional football for 14 years before he retired. He helped lead the storied team to four Super Bowl victories and other major wins. His popularity is as strong today as it was back then, keeping Bradshaw busy with sports show co-hosting spots, motivational speaking engagements and talk show appearances.
No other educational program offers the quality of programming which Today in America Terry Bradshaw offers. The show focuses on topics which have an impact on the lives of everyday citizens. It dives into the environment, technological advances, medical breakthroughs and home and lifestyle options and other enlightening subjects. The program films across the country and is broadcast on regional and national business oriented cable television networks. It has been on the air for more than ten years and has earned many industry related awards. Get more information, including the broadcast schedule, at todayinamericatv.com.