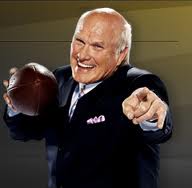 Terry Bradshaw always makes people laugh and that is why they love him.
Coral Springs, FL (PRWEB) September 09, 2012
At the start of every football season, each sports commenter picks their favorite team to make it to the Super Bowl. This year is no different. Today in America TV host and Fox NFL Sunday pregame show co-host Terry Bradshaw picks his favorite team to win every game they will play. His reasons are personal, hilarious and true. In a rare visit as a guest on popular day time talk show, and in a bit with one of its hostesses, Bradshaw announces and explains his choice for this year's Super Bowl contender the New York Giants. Fans can see the former Pittsburgh Steelers quarterback and his co-hosts of distinction starting Sunday at 12 P.M ET on local stations.
Today in America with Terry Bradshaw is a unique program for viewers who wish to be informed of new, exciting businesses and growing American communities with much to offer. It covers topics that reflect the way we live, work, play and want to retire. Producers span the country and the globe to find and share enlightening stories of entrepreneurship, success and ingenuity. The compelling program films throughout the United States and Canada and distributed on national and regional business oriented cable television networks.
Host Terry Bradshaw, a National Football League Hall of Fame inductee played professional football for 14 years before he retired. Since then, he has worked in sports broadcasting as a commentator and analyst. He is the author of three books, an often requested speaker for corporate and charitable events and a spokesperson for Nutrisystem. The audience will enjoy seeing how well the popular weight loss program is working for the Bradshaw. Read his full bio or check the broadcast schedule at http://www.todayinamerica.com. Social media fans are welcome to Like the show on Facebook, tweet it on Twitter and watch sample videos on YouTube.