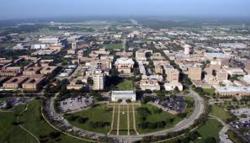 Quality, educational programming airs in Waco, College Station and Bryan, TX with Today in America TV.
Coral Springs, FL (PRWEB) August 11, 2012
The top-notch Today in America Terry Bradshaw show is proud to welcome Bryan, College Station and Waco, Texas to the list of cities airing the informative show on FOX KYLE-TV. College Station was ranked as one of the nation's top ten places to raise a family by Kiplinger's magazine and is number one in Texas for bring one of the Best Small Places for Business and Careers by Forbes magazine. The audience will find topics that relate to everyday living such as DIY home solutions, energy-saving ideas, and the engaging best in little cities and towns series.
The host of the entertaining show is a National Football League Hall of Fame League inductee Terry Bradshaw. He played for the Pittsburgh Steelers for 14 years as their quarterback before retiring due to an injury. His skill and talent was instrumental in leading the team to four Super Bowl wins and many league title games. Bradshaw has spent much of his life playing, reporting, and commenting on football. He has worked in sports broadcasting for more than 20 years, which include being one of the original hosts for am Emmy-winning, long-standing football pregame show. In addition, he is a motivational speaker and the author of three books, one a best-seller.
Today in America with Terry Bradshaw covers topics in the business, technology and health industries. Viewers can enjoy special segments on the environment, family health and wellness as well as learning about different ideas for the home in the lifestyle series. The show prides itself as a leader in quality; educational programming that is directed toward educated professionals. The stand-out show films around the country and airs regionally and nationally on business oriented cable television networks. Please visit todayinamericatv.com to learn more about the show, to see the broadcast schedule or to view sample videos.