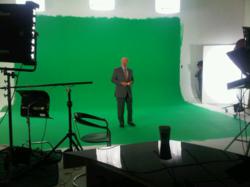 Visit the set of the award-winning educational program.
Coral Springs, FL (PRWEB) May 10, 2012
Have you ever wanted to see how an informational television program gets put together? The award-winning cable television program,Today in America TV, is offering an exclusive, Inside the Studio Tour for interested viewers, potential featured guests and others who want to see how the engaging educational show is filmed, edited and readied for production. Visit the editing suites where all the magic happens and sit behind the desk where host Terry Bradshaw narrates the show. Prospective guests have the opportunity to meet Executive Producer Doug Scott, Vice President of Production Jim Nicholas and other industry specialists. Learn how one program is put together, see the cool green screen and learn how it changed television production in the 21st century, as well as admire the new state-of-the-art equipment and get answers to questions.
The host of the informative television show is sports legend Terry Bradshaw. The charismatic and outgoing former Pittsburgh Steelers football player is in high demand for motivational speaking engagements, along with being a spokesperson for Nutrisystem and an analyst on a national sports show. Bradshaw was the starring quarterback for the team who led them to four Super Bowl victories and earned an induction into the Pro Ball Hall of Fame. He was twice voted "Most Valuable Player" during his respected 14 year career in the NFL, before he retired in 1984.
The Today in America Terry Bradshaw show covers topics that are relevant to the lives of educated professionals. The informative cable television program films throughout the United States and Canada and is professionally edited in Coral Springs, Florida. The show airs nationally and regionally on business oriented cable networks. Please visit todayinamericatv.com for more information about the show, its host or to view the fan page. The educational program engages on all social media platforms such as Face Book, YouTube and Twitter.