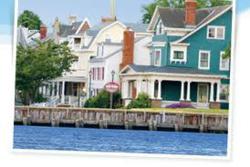 We are very proud to welcome Norfolk and Portsmouth, VA in the month of October.
Coral Springs, FL (PRWEB) October 02, 2012
Today in America TV, the educational program is proud to welcome Norfolk and Portsmouth, Virginia to its lists of media markets. These two vitally important cities located on the Chesapeake Bay, are home to the United States Navy, United States Coast Guard and NATO headquarters. Norfolk is also called "Tree City" because its neighborhoods are lined with trees and flowers. Portsmouth is a close-by community with historically beautiful homes and shops and has the state's largest children's museum. A quick ferry moves people from Portsmouth to Norfolk. Both are in close proximity to the state's other historical sites and are important seaports for the transportation of goods such as tobacco, cotton, timber, coal and more. The engaging show is hosted by an NFL Hall of Famer and can be seen on WSKY-TV.
Terry Bradshaw, former Pittsburgh Steelers quarterback, is the narrator of the program. His skills for the sport and talent in the position helped lead the team to four Super Bowl wins and other respected national championship victories. He retired from the game in the mid 1980's and has worked as football commentator and analyst for close to 30 years. His lasting popularity can be attributed to motivational speaking engagements, feature film roles, comedic television series guest appearances, and being a spokesperson for name-brand products like Nutrisystem and Ferguson, the largest wholesale distributor of residential and commercial plumbing supplies and pipe, valves and fittings in the U.S.
The show features interviews with intriguing entrepreneurs and highlights emerging entrepreneurs. Today in America Terry Bradshaw covers topics such as the environment, business and technology, home and lifestyle solutions, plus many more. It films on location in North America and is distributed on business oriented cable television networks in regional and national media markets. Please visit todayinamericatv.com or on popular social media sites like Facebook, Google+ and YouTube.