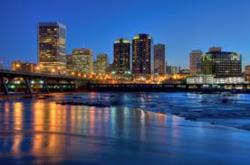 Only the best in educational programming for America's historical city Richmond, VA.
Coral Springs, FL (PRWEB) September 23, 2012
The exceptional Today in America TV show announces the release of air dates for Richmond, Virginia. The historical city is located a short 60 miles from the Chesapeake Bay and 100 miles from Washington, DC. It is nicknamed "The River City" because it is located on the banks of the James River, and is the home of St. John's Church where Patrick Henry gave his famous "give me liberty of give me death" speech. Residents and visitors to the city and surrounding areas like Colonial Williamsburg can watch the outstanding educational program, hosted by NFL star Terry Bradshaw, on TCN- The Comcast Network.
No other former professional football player is as well-known and popular as Terry Bradshaw. The Pittsburgh Steelers veteran quarterback helped lead the team to four Super Bowl victories and amassed an all-time passing record which remains unbroken today. He retired from the sport in 1984 and later was inducted into the NFL Hall of Fame. Soon after, he began a new career in broadcasting in which he is still active in today. Bradshaw is an outgoing and charismatic sports celebrity which leads to motivational speaking engagements as well as taking spokesperson jobs like the one for Nutrisystem.
The Today in America Terry Bradshaw television program explores topics which reflect the lives we live. It dives into digital home technology, clean air solutions, Eco-travel, and more. The enticing show films on location and is distributed on regional and national business oriented cable television networks. Producers such as Anne Kole and Mike Leonetti scour the nation to get the best and latest information on trends. Today in America reviews economic development complaints from city officials to better shine light on the best places to live, work and play in the US. More information about the program, its host and broadcast schedule is available at todayinamericatv.com.