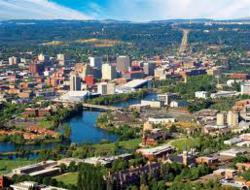 The leader in quality, educational programming airs in the Lilac City in May.
Coral Springs, FL (PRWEB) May 25, 2012
The Lilac City, so nicknamed by the distinctive flowers that bloom throughout the area in springtime, is also known as Spokane, Washington. The city is located on the east side of the State. It is approximately 18 miles west of the Idaho state line and 100 miles south of the Canadian border. Spokane is famous for many things such as the Bloomsday Race, the largest timed fun-run in the country, Glacier National Park, about four hours from the city, and the many ghost towns and parks that dot its landscape. However, the most famous event in the Northwest city is that the first Father's Day celebration took place there on June 19, 1910. Dads and their families will be able to relax and watch the award winning Today in America TV on the Comcast cable system.
The host of the informative cable television show is Terry Bradshaw – a dad himself.
Bradshaw, a former Pittsburgh Steelers quarterback, helped steer the team to four Super Bowl victories and eight AFC titles. His skill on the grid iron earned Bradshaw an induction in to the Hall of Fame and he was twice named "Most Valuable Player." He spent 14 years in his professional football career with the NFL before retiring in 1984. Always popular and charismatic, Bradshaw is a regular sports analyst on a national television network, one of the famous spokespeople for Nutrisystem and an often requested motivational speaker.
Today in America with Terry Bradshaw takes pride in being a leader of educational programming. The engaging cable television program films throughout the United States and Canada and is edited in South Florida. It airs regionally and nationally on business oriented cable networks. For more information about the show and its host, or to see sample videos, please visit todayinamericatv.com.