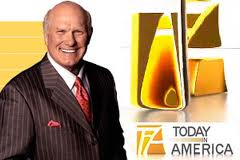 Proud to be a winner in the 33rd Annual Telly Awards and a leader in educational programming.
Coral Springs, FL (PRWEB) June 06, 2012
The Telly Awards are a prestigious and respected organization that rewards creativity and hard work in the video industry. It was founded in 1978 to honor excellence in local, regional and cable TV commercials. Later, the other categories were added allowing more entries and stiffer competition. The entries can win either a Silver or a Bronze award in a total of five categories. The producers of Today in America television are proud to announce that they were awarded eight statuettes in the 33rd Annual Telly Awards: one Silver and seven Bronze. The award-winning production team includes film editors, scriptwriters, engineers, graphic artists and production coordinators.
Host Terry Bradshaw is a former professional football player. He was the starring quarterback for the Pittsburgh Steelers who helped guide the team to sour Super Bowl victories and eight AFC titles. Known for his strong throwing arm, Bradshaw was nicknamed "the man with the cannon arm". His skill on the grid iron resulted in being named "Most Valuable Player" twice and an induction in to the Hall of Fame. Bradshaw retired in 1984, after 14 years with the NFL, and has worked in sports broadcasting for more than 20 years. A charismatic and outgoing person, Bradshaw is a spokesperson for Nutrisystem and travels frequently as a motivational speaker for companies and charitable organizations.
Today in America with Terry Bradshaw delves into topics that are relevant in the lives of everyone from business leaders to stay-at-home-parents. It touches on subjects such as home school essentials, Eco-travel and American industry. The provocative cable television show films throughout the United States and airs on regional and national business oriented cable networks. Read about the show, meet the award-winning team or learn more about the show host at todayinamericatv.com. It is also on Facebook, YouTube and Twitter.