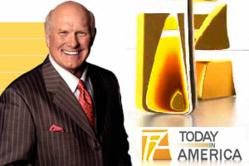 Today in America TV shows the best Eco-travel stories.
Coral Springs, FL (PRWEB) January 28, 2012
Fly. Fly way above the mountains. Fly over the tree tops. Fly over roller coasters. Fly safely and reduce a carbon footprint. Today in America TV will air a segment on Skyline Eco-Adventures of Maui, Hawaii and show why this adventuresome company has been expanding in that most gorgeous state and into Tennessee.
This unique business was founded in 2002 by father and son, Buck and Danny Boren in Maui, Hawaii. Together they own, operate and build premier zip line tours in Hawaii and Tennessee. When they began in this business, they had only one location and six customers the first year. Not long after though, they had over 200 visitors and added two more island locations. A fourth location is one of the first zip line businesses at a major theme park-Dollywood, TN.
Today in America TV is proud to showcase this green business that is offering unique franchise opportunities. Skyline Eco-Adventures' safety standards go beyond the zip line industry standards. They also donate one percent of their revenue into conservation efforts. This family run operation is a great opportunity for anyone who wants to start their own business.
Today in America with Terry Bradshaw is a show that focuses on family and lifestyle, emerging patient technologies, the greening of America, Eco travel, lifestyle, family fun and other topics that relate to everyday living. Our host former Pittsburgh Steeler great Terry Bradshaw is a two-time Super Bowl MVP, and Hall of Fame recipient. He can currently be seen on Fox NFL Sunday as an analyst. Today in America TV is aired on local and regional cable TV networks in directed media markets for the most complete coverage. For more information, to see a Today in America TV sample, or learn more about our awesome host, please visit twitter.com/todayamericatv.
Skyline Eco-Adventures Contact:
Web: zipline.com
Tel: (808) 878-8400
Email: Info(at)zipline(dot)com
###