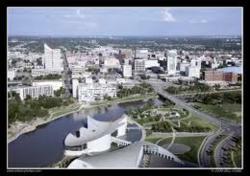 The educational program welcomes "The Air Capital of the World", and "The Edible Salt City", both in Kansas.
Coral Springs, FL (PRWEB) September 03, 2012
A leader of quality, educational programming, Today in America TV is proud to announce that Wichita and Hutchinson, Kansas join their growing list of media market cities. Wichita, 'The Air Capital of the World" is home to six of the United States' biggest air companies: Spirit, Boeing, Raytheon, Bombardier, Cessna and Airbus. It was named one of the affordable cities by Forbes Magazine Online and has a short and sweet commute time of just 16 minutes. Nearby to the city where Pizza Hut was created is Hutchinson, which is nicknamed "The Edible Salt City". Residents and visitors to both areas will be able to watch the entertaining program, hosted by one of the most popular sports celebrities in the country, on Fox KSAS-TV.
Terry Bradshaw hosts of the informative program. The popular former Pittsburgh Steelers quarterback got into football in high school and has made it a career ever since. He was a first round draft pick for the legendary team and played for them for 14 years. He retired in 1984 and immediately began work in professional football broadcasting. Today, he is a co-host for an Emmy-winning pregame show, a published author and favorite speaker on the motivational speaking circuit, as well as narrating the Telly award-winning show.
No other program offers the kind of quality, educational programming Today in America with Terry Bradshaw does. The compelling program takes on topics which are relevant and useful to the viewer like family health and wellness, renewable energy, smart home technology, plus many more. It films across the country and in Canada. It is broadcast on regional and national business oriented cable television networks in both countries. Watch sample videos, learn more about host Terry Bradshaw or the show, and check when it will be shown in your city at todayinamericatv.com.