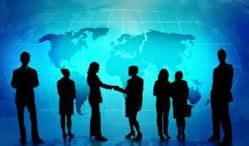 Smart business leaders know what they need to get ahead in a global economy.
Coral Springs, FL (PRWEB) June 20, 2012
A rocky economy and unsteady employment reports can leave any business person wondering how to manage in today's volatile workforce. Smart leaders will know that in order to get ahead and increase revenue, they will need to jump borders and set up shop overseas. It takes patience and perseverance to learn and master the challenges of managing daily operations in a stressed out foreign financial world. Today in America TV is excited to announce a series that features successful business leaders who made the jump in a new series that explores what businesses need to succeed in a global economy.
Terry Bradshaw, former pro ball player, was the starring quarterback for the Pittsburgh Steelers who helped guide the team to four Super Bowl victories. He was twice named "Most Valuable Player" and was inducted into the Hall of Fame in 1989. Bradshaw retired in 1983 and has not stopped working since. He appeared in several films and television shows, including Failure to Launch (2006) with Matthew McConaughey and Sarah Jessica Parker and is an often requested late night talk show guest. Bradshaw is a familiar face on football related sports shows. He has worked in broadcasting for more than 20 years as a reporter, commentator and analyst. His well-known warmth and popularity keeps him busy as a motivational speaker and as a spokesperson for Nutrisystem.
Today in America with Terry Bradshaw is a proud leader in quality, educational programming. A winner of many Telly awards, the enlightening cable program covers topics that impact the lives of working professionals. It films on location, is edited in South Florida and airs on regional and national cable television networks. For more information about the show or its host, or to see sample videos, please visit todayinamericatv.com or visit it on Facebook, Twitter and YouTube.