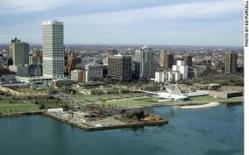 Bringing the best in tech news and educational programming to Milwaukee.
Coral Springs, FL (PRWEB) April 26, 2012
Today in America TV brings the engaging cable television program to the city where the typewriter was invented – Milwaukee, Wisconsin. Residents and visitors can watch the show on CNN Headline News throughout the month of April, to learn about cloud computing, on-demand software and other topics of interest to the general public.
The hard-working city is also known for two favorite beverages: milk and beer. It is often called "America's Dairy" and is the home to Miller Brewing Company, as well as Harley Davidson Motorcycles. The city by Lake Michigan is the birthplace to three notable Wisconsinites in history: Laura Ingalls Wilder, Orson Welles and Harry Houdini.
Terry Bradshaw, former Pittsburgh Steeler quarterback, is the host of the intriguing cable TV show. He was the starring quarterback who led the team to four Super Bowl wins and eight AFC championship titles. His skill on the grid iron earned the popular player an induction in to the Hall of Fame. A natural at calling his own plays, the veteran pro ball player was twice named "Most Valuable Player" during his 14 year career. Bradshaw retired in 1984 and has been a fixture on sports related shows for over 25 years. Well-known to be friendly and open with everyone, he is an analyst on Fox NFL Sunday, a spokesperson for Nutrisystem and is active with motivational speaking engagements.
Today in America with Terry Bradshaw prides itself as a leader in educational programming. The show explores topics that are relevant to the lives of every day people. Learn more about the e-learning options, family recreation, and credit repair in a manageable amount of time. The informative cable program films throughout the United States and Canada and is professionally edited in South Florida. For more information about the program its host or topics, please visit todayinamericatv.com.