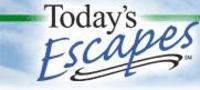 Norwalk, Conn (PRWEB) September 28, 2007
Fans of the term "leaf-peeping" are chomping at the bit for the start of the fall foliage season, reports Todays Escapes, a top discount travel and entertainment program provided by Adaptive Marketing LLC. And even folks who dislike the term often find themselves enthralled by the colorful change in the landscape as autumn's dropping temperatures begin to turn forests of green into patchwork quilts of red, gold, brown and a variety of other arboreal shades.
Todays Escapes members enjoy access to an Online Travel Agency along with other valuable savings that help lower the costs of travel, lodging and accessories as they gear up for fall vacations, long weekend getaways and other breaks from their daily routines.
Few breaks offer as much natural beauty across so much acreage as you can discover on a jaunt across the prime locations for fall's spectacular fireworks. And you don't have to be an arborist or botanist -- or even a backyard gardener -- to enjoy the dazzling array of colors that autumn brings; you just need your eyesight and a sense of wonder.
Whether you're new to the leaf-peeping game or you're looking to revisit some favorite old stomping grounds, Todays Escapes offers you a few tips on where to find some of the best landscape portraits in the country this fall:
-- Vermont. To outsiders, New Englanders may seem to take too much pride in Mother Nature's leaf-painting abilities, but once you've experienced a Vermont fall, you'll understand why. Starting in mid-September up north and slowly rolling south through the state until the end of October, Vermont's changing hues can leave you searching for new words to describe "red," "golden yellow" and "wow," among other terms.
-- Massachusetts. From seaside vistas to mountainous views, Massachusetts offers you as much variety in your leafy search as anywhere on the planet. You can start your late-September trip in the wooded hills of western Massachusetts and chase the transformation southeast to the tip of Cape Cod in mid-October -- and add a quick trip to Nantucket or Martha's Vineyard for a full oceanic effect.
-- Michigan. By late September, Michigan's Upper Peninsula will be offering a rich panoply of the season's top colors -- red, orange, gold, amber and more -- and savvy leaf fans can make a leisurely trip south through the state to experience the change from summer to autumn tones on a daily basis.
-- Montana. Serious outdoor adventurers can experience the fall foliage against a backdrop of beautiful terrain in Montana, starting in late September. From Custer, Shoshone and Gallatin National Forests to Glacier National Park, Montana's natural landscape is awe-inspiring year-round; adding the autumn palette to the views just increases the payoff that much more.
-- Washington state. The Pacific Northwest has been blessed by Mother Nature's design skills, and the mid-autumn season offers heightened proof of that. Take your pick from a wide selection of mountain ranges -- Mount Rainier, the Cascades, the Selkirk Mountains, the Blue Mountains and more -- then prepare for a visual feast of colors and gradations that will fill up your eyes and, perhaps not so oddly, leave you wanting more.
Autumn is a time of change -- the beginning of a new school year, the end of warm summer climes, a switch in sporting focus from baseball to football, and more -- and few changes are anticipated and embraced as much as the changing of the leaves. If you're looking for an outing that will fill up your senses without draining you of energy, take a trip to a fall foliage hot spot, suggests Todays Escapes.
About Todays Escapes
Todays Escapes is a leading membership discount program offered by Adaptive Marketing LLC. Headquartered in Norwalk, Conn., Adaptive Marketing is a category leader in membership programs, bringing value direct to consumers through an array of benefits in healthcare, discounts, security, personal property and personals. Members may access their benefits at TodaysEscapes.com. With broad online and offline distribution capabilities, Adaptive Marketing offers its corporate client partners effective tools to enhance market presence, strengthen customer affinity and generate additional value through programs such as Todays Escapes.
###