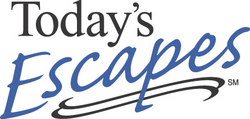 Norwalk, CT (PRWEB) July 3, 2008
Todays Escapes (SM), a travel discount membership program by Adaptive Marketing LLC, knows only one simple cure for wanderlust -- travel. These days, though, what's packed (and how much "stuff" there is) needs to be factored into the trip's overall cost. Like many businesses, airlines are struggling, and now they've started assessing fees for checked bags -- especially for oversized items.
It's just a guess, but the late Jack Kerouac probably didn't have too many worries about extra packing fees and the like when he penned his now-famous On the Road back in 1957. For travelers back then, it was just "make plans to go"...and whatever was going to happen eventually did. But the modern traveler isn't so lucky; continued concerns over rising fuel costs and a generally sluggish economy have led to increased baggage costs.
That's why TodaysEscapes has come up with a few tips on how to pack more efficiently, lightly and cost-effectively. After all, traveling to satisfy that wanderlust is only natural. And Todays Escapes has some ideas to ensure that extra baggage fees aren't the thing that's stopping those innate travel urges:
-- Call the haul. Call the airlines and check websites to find out the fees for packing certain items. If a fishing trip is on the docket, for example, know that there could be extra fees for fishing poles, tackle boxes and the like. Before it's time to grab that "catch of the day," know how much extra there'll be to pay.
-- Learn online. The general rule is that the most up-to-date information on additional baggage fees is usually buried somewhere on the airline's website. Digging around to save a few bucks may not be the best way to start off a vacation, but a little patience may be rewarded. Check out links on major airlines' sites like Know before you go and Baggage; in this case, a little knowledge is a good thing.
-- Ship and save. If that dream vacation or long-awaited getaway requires oversized luggage (especially things like golf clubs and other sports equipment), consider shipping it ahead of time.
-- Trim the fat to lighten up. If the itinerary calls for a long time away, there's not a lot that can be done about bringing heavier bags. But for those shorter trips -- ones that don't require extra baggage -- don't over-pack. Stick to the basics, and try to get by with a carry-on and -- at most -- one checked bag.
Todays Escapes understands that traveling -- as great as it can be -- does carry added costs these days. So for travel needs and vacation ideas that help keep costs down but keep the "fun quotient" steadily moving up, look no further than TodaysEscapes.
About Todays Escapes:
TodaysEscapes is a leading membership discount program offered by Adaptive Marketing LLC. Headquartered in Norwalk, Conn., Adaptive Marketing is a category leader in membership programs, bringing value direct to consumers through an array of benefits in healthcare, discounts, security, personal property and personals. Members may access their benefits at TodaysEscapes.com. With broad online and offline distribution capabilities, Adaptive Marketing offers its corporate client partners effective tools to enhance market presence, strengthen customer affinity and generate additional value through programs such as Todays Escapes.
###