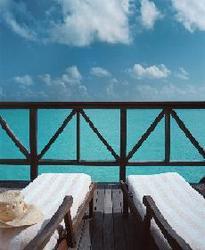 Norwalk, CN (PRWEB) January 28, 2008
Spring break is the holiday for students. This is their week to close all books and not think about midterms, papers and studying. For freshman students, spring break is yet another "first" on the long list of new things they go through during their first year in college.
Todays Escapes (SM), a travel discount membership program by Adaptive Marketing LLC, knows how important this experience is for thousands of young adults across the country who look at this trip as another milestone in their lives.
So where to go for an ultimate spring break experience? AP9 TodaysEscapes has put together a list of some of the top destinations in the country in Mexico. This list will give freshmen students a better idea of where the fun is before booking their flights to a wild experience:
-- Nevada. "Sin City" embodies the spirit of what spring break represents: unlimited fun and outrageous behavior. The casinos, clubs, huge hotels and shows attract spring breakers like bees to honey. But Las Vegas is not all that Nevada has to offer spring breakers. Some are venturing out of the city limits to a destination that's becoming one of Nevada's hot spots: Lake Havasu. This area offers 400 miles of coastline, water sports for every taste, and quite a few clubs and bars that can delight spring breakers looking for endless entertainment in the desert.
-- Texas. Even fun is bigger and better in Texas. Spring breakers typically choose a spot in one of the two most popular areas of the state: the Gulf Coast or the Hill Country. On the coast, the "it" towns include Aransas Pass, Port Aransas, Corpus Christi and, of course, South Padre Island. Spring breakers look for activities in or around water, no matter if it's fresh or salt water. That's why the rivers and lakes on Hill Country are chosen for college students from everywhere in the U.S. Some names to consider (particularly for tubing) are Lake Travis (north of Austin), and the San Marcos and Guadalupe rivers.
-- Florida. Sunny days, balmy temperatures, warm water and endless beaches are some of the attractions Florida has to offer to spring breakers, especially those who are also looking to escape from a dreary winter. Daytona Beach was the hottest spot for many years, but now there's a serious competition between South Beach and Panama City for the #1 spot. Both places offer spring break specials, water sports, open restaurants to see and be seen, and nightclubs that close only when the last patron walks out.
-- Mexico. Puerto Vallarta, Cancun, Cabo San Lucas, Rosarito Beach, Acapulco … just the names sound like fun! Need any more reasons to get a passport and flight south of the border? Raging nightlife scene, colorful hotels and villages and water sports make any of these cities and towns an ideal destination for spring breakers. Take out the English-Spanish dictionary, and pack some super-sized sunscreen!
AP9 TodaysEscapes knows that once-in-a-lifetime experiences like spring break are just too important to miss. And for savings on travel needs and vacation ideas for any time of the year, look no further than Todays Escapes.
About Todays Escapes
AP9 TodaysEscapes is a leading membership discount program offered by Adaptive Marketing LLC. Headquartered in Norwalk, Conn., Adaptive Marketing is a category leader in membership programs, bringing value direct to consumers through an array of benefits in healthcare, discounts, security, personal property and personals. Members may access their benefits at TodaysEscapes.com. With broad online and offline distribution capabilities, Adaptive Marketing offers its corporate client partners effective tools to enhance market presence, strengthen customer affinity and generate additional value through programs such as Todays Escapes.
###